In-depth coverage of the classical music latest headlines, breaking news and top stories:
Saturday, December 19, 2015 from
Music: Classical music | guardian.co.uk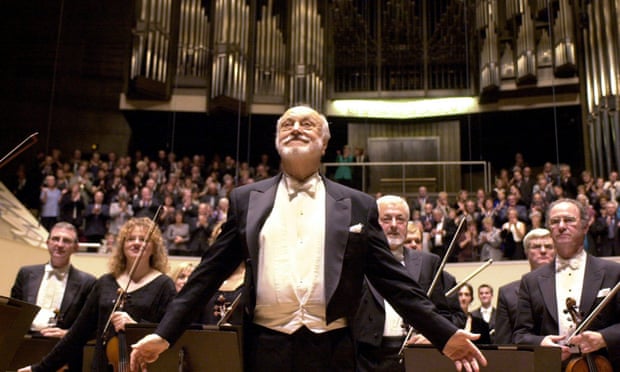 German musician worked with orchestras around the world Masur oversaw New York orchestra's response to 9/11 attacks Kurt Masur , the German conductor who led the New York Philharmonic orchestra for 11 years, died on Saturday. He was 88....
From the rules of the Prague Spring Festival Competition 2016 – Piano – In Memory of Rudolf Firkušný: Candidates who document that they have won the 1st prize in one of the following competitions need not submit a...
Hugo Rinaldi, a conductor who worked with Leonard Bernstein on Candide and West Side Story while devoting much of his life to education, has died just short of his 96th birthday. Hugo founded and conducted the San Rafael Chamber...
Fretwork (Asako Morikawa, Richard Boothby, Reiko Ichise, Richard Tunnicliffe) John Taverner Missa gloria tibi trinitas , John Tavener Nipson , The Hidden Face ; Iestyn Davies, Nicholas Daniel, Fretwork; Kings Place Reviewed by Robert...
We have been reading the LinkedIn profile of Gary Smith, the HR consultant who has been hired by English National Opera to decimate its payroll – meaning, its chorus and orchestra. Here's his past form: Notable Career...
In addition to its fifth woman player this month, the Vienna Philharmonic Orchestra on Friday elected a new second clarinet. He is Gregor Hinterreiter, 27, from Linz. He has been playing in the Vienna State Opera orchestra since 2009....
I shared some memories of Kurt Masur on the BBC World Service last night. You can listen here. It's just five minutes. photo (c) Lebrecht.co.uk
From the thrill of Brittany Howard's alter ego to joy on the Wirral, modern rockabilly and Nico Muhly's homage to Philip Glass, our critics pick some of this year's under-the-radar releases that didn't get the acclaim they deserved...
Ambika P3; Milton Court, London The bunker-bound London contemporary music festival conjured up its wildest programming yet. And the Barbican's Shostakovich day was beautifully done The choice of venue was obvious. Where else to combine...
Classical music : Satin-finished performances from the Orpheus Chamber Singers Dallas Morning News Much of what we consider great classical Christian choral music was conceived for high-ceilinged churches with considerable reverberation....
Classical-Music.com 20 December: Tomorrow shall be my Dancing Day Classical-Music.com Listen to Radio 3. Radio 3 broadcasts classical music , jazz, world music, new music, arts programmes and drama. Promotions. Advertisement. Exclusive!...
Gregory Rose's 'Danse Macabre', heard by Gerald Fenech. '... intense realism.'
Rating: 0 Words: Traditional English Music: John Gardner Though thought to find its roots in the world of medieval mystery plays, this Cornish carol was first published in 1833, when it appeared in William Sandys's...
What Michelle Zukovsky says is: 'The audition system itself is flawed, but it's the best we got.' She is stepping down as principal after more than half a century. What she prefers is this: 'Some of those wilder, more...
Randy Houston Mercer, a makeup artist who worked on The Book of Mormon, Hairspray, The Producers, Cabaret and more, has been sentenced in Augusta, Georgia, for sexual exploitation of a minor in production of child pornography, a charge...
The ticket: Classical music The Boston Globe A MEDITERRANEAN CHRISTMAS Under Anne Azéma's direction, the Boston Camerata reprises its classic program featuring celebratory songs from around the Mediterranean. With the SHARQ Arabic...
Fleur Pellerin is a classy politician. She did not need to be told by anyone that Kurt regenerated the national orchestra of France. She posted this wordless clip on Twitter.
The great Russian baritone will appear in four performances of Eugene Onegin at Covent Garden before resuming treatment for brain cancer in London, where he lives. An ROH spokesman told a Russian website: Хворостовский, которому...
Slovakian violin virtuoso and male model […] The post VC BUZZ | Filip Pogady – Violin Fugue on Adele's "Rolling in the Deep" [WOW] appeared first on The Violin Channel | World's Leading Classical Music News Source. Est...
The cellist, head of the Birmingham Conservatoire, has published a closely argued op-ed piece in the Times stating the case against building the City of London's vanity hall for the incoming LSO conductor, Sir Simon Rattle. Sample:...
When one of America's foremost orchestras needed an overhaul, an unlikely leader emerged from East Germany.
The Houston Symphony is currently accepting […] The post AUDITION | Houston Symphony, USA – 'Section Second Violin' Position appeared first on The Violin Channel | World's Leading Classical Music News Source. Est 2009. .
9 year old British violinist Leia […] The post NEW TO YOUTUBE | 9 Year Old Leia Zhu – Russian 'Nutcracker' Competition [VIDEO] appeared first on The Violin Channel | World's Leading Classical Music News Source. Est 2009. .
20 year old VC 'Young Artist' […] The post NEW TO YOUTUBE | VC 'Young Artist' In Mo Yang – Paganini Concerto, Live, 2015 [VIDEO] appeared first on The Violin Channel | World's Leading Classical Music News Source. Est...
It has been announced today that […] The post VC 'Young Artist' Emmanuel Tjeknavorian Signed to RB Artists Management appeared first on The Violin Channel | World's Leading Classical Music News Source. Est 2009. .
German conductor Kurt Masur has passed away […] The post BREAKING SAD NEWS| Eminent German Conductor Kurt Masur Has Died appeared first on The Violin Channel | World's Leading Classical Music News Source. Est 2009. .
The Christmas carol Silent Night was first performed at a Christmas Eve service in 1818 in the village of Oberndorf, outside of Salzburg, Austria. The story behind this gentle song about a peaceful, "heavenly" night began in the...
As the festive week approaches, I'm delighted to offer my readers a little Christmas gift. This well-known piece hailing from one of the most popular Christmas ballets, The Nutcracker Suite by Tchaikovsky, is a trio (six hands at...
Schütz's nativity music, written in the wake of the thirty years' war, resonates with a sense of hope for today We are in the midst of a season in which stories are retold. The TV schedules are full of films we've seen more often than we...
The Arts Desk Classical CDs Weekly: Christmas CDs, Part 2 The Arts Desk This disc's academic credentials are impeccable, but my reasons for loving it are purely musical ; John Butt's Bach programme allows us to party as if it...
No one would suggest that there should be no more performances of Handel's Messiah in churches or concert halls because the work has already been done more than enough times. So if a group of performers and a record company want to...
William Walton's lovely Christmas carol 'All this Time' was written relatively late in his career in 1970. The previous year had witnessed the premiere of the film The Battle of Britain which included music by Walton and Ron Goodwin,...
It's that time of year when one looks back at the previous twelve months and reflects. It's also customary to produce "best of" lists and the like. So here goes. In terms of fully staged, large-scale opera productions it wasn't …...
Continuing in its long and proud tradition of mystery and intrigue, Opera Orchestra of New York has announced a concert or some other sort of music-related event for May 4, 2016.
The consistent presence of the Mormon Tabernacle Choir, coupled with the Columbia Symphony Orchestra, renders the recording heavy-handed to a modern listener. It's the musical equivalent of finishing off an entire pint of eggnog in one...